Northmark has developed what we believe to be the gold standard for Avastin sterility and safety. Moreover, Northmark utilizes novel operational efficiencies to facilitate maximal availability for practices, while maintaining compliance with changing state and federal pharmacy regulations. We are certified to sell Avastin in Ohio, Florida, Indiana, Illinois, Kentucky, Michigan, Pennsylvania, Delaware, Rhode Island, Wisconsin, Missouri, and Georgia.
Northmark Pharmacy has been operational since January, 2013 and has processed over 10,000 Avastin syringes for CEI patients. Northmark Pharmacy is supplying Avastin for intravitreal injection to other practices with outstanding feedback about safety, quality, and availability.
Our Team
Deepali Chachare, R.Ph.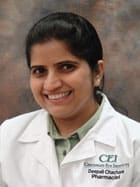 Deepali Chachare, RPh, joined Northmark Pharmacy in January 2013 and is the Director of Pharmacy. She earned her Pharmacy degree from the University of Pune, India, in 2000. She did her post graduation in 2002 earning a Master's degree in Pharmaceutical sciences, specializing in Quality assurance.
In 2010, Deepali was licensed as a registered Pharmacist in the State of Ohio and then in 2011 in the State of Kentucky. She has successfully completed the certification program, Advanced Competency in Aseptic Compounding Practices, from the University of Findlay.
In 2014, the Northmark Pharmacy became PCAB accredited under her supervision. Deepali has worked for over 6 years in Pharmaceutical Research and Development including two years with a mail order pharmacy providing her with a great opportunity to interact with patients and healthcare professionals.
Dana McConnell, C.Ph.T.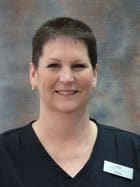 Dana McConnell is a graduate of Western Brown High School. She has been a Pharmacy Technician since 1983. She is nationally certified and licensed in Kentucky. She was directly involved and assisted with the PCAB Accreditation of the Northmark Pharmacy. She has been an employee of Northmark Pharmacy since 2013. Dana enjoys the outdoors, working in the yard; garden and taking long walks with her family.
Ron Ferguson, R.Ph.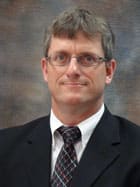 Ron Ferguson, R.Ph., has been involved in several specialty pharmacy start-ups along with owning retail and mail order pharmacy locations. Ron has owned or co-owned pharmacies since buying his first pharmacy as a junior in college in 1987 while at the University of Cincinnati. Ron's experience in pharmacy start-ups, along with sterile product dispensing following USP 797 standards, has helped Cincinnati Eye Institute with their in-house pharmacy, Northmark Pharmacy at Cincinnati Eye Institute.
His background with sterile product specialty pharmacy locations include: Option Care, Bethel, Ohio; Option Care, Cincinnati, Ohio; Option Care, Indianapolis, Indiana; Option Care, Ft. Wayne, Indiana; Wrencare Pharmacy, Fairfield, Ohio; and Gateway Healthcare, Indianapolis, Indiana. Retail and mail order pharmacy locations include: Mt. Orab Pharmacy, Mt. Orab, Ohio; Seaman Pharmacy, Seaman, Ohio; Jungle Jim's Pharmacy, Fairfield, Ohio; Monroe Pharmacy, Monroe, Ohio; HealthWarehouse, Florence, Kentucky; and Specialty Medical Drugstore, Miamiville, Ohio. All home care locations have been accredited by JCAHO, CHAPS or PCAB (most recently with Northmark Pharmacy).
Ron and his wife, Diane, enjoy family life with 5 boys and 1 pending adoption from Haiti. He's served on the board of The Shepherd's Crook, an adoption advisory agency for 10 years and Mars Hill Academy, a classical Christian school in Mason, Ohio for 12 years. He is a member of the International Academy of Compounding Pharmacists and Ohio Pharmacists Association.
Daniel M. Miller, M.D. Ph.D.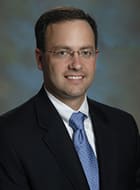 Born in Youngstown, Ohio, Daniel M. Miller, M.D., Ph.D. received a Bachelor of Science in Biology from the University of Michigan where he graduated with highest honors. He completed a combined M.D./Ph.D. curriculum at the Ohio State University College of Medicine where he combined doctoral research with his medical education. Dr. Miller graduated with recognition for academic excellence and national awards for his research contributions. He completed an Internship at Riverside Methodist Hospital in Columbus, Ohio. This was followed by an Ophthalmology Residency and subspecialty training in vitreoretinal disease and surgery at the Bascom Palmer Eye Institute, which is associated with the University of Miami School of Medicine. Upon completion of his retina fellowship, he accepted a faculty position at the Bascom Palmer Eye Institute.
Dr. Miller has an extensive background in basic and clinical research. While at Ohio State, he received a fellowship from the Howard Hughes Medical Institute. His research on blood vessels and the immune system led to numerous publications in international scientific journals and textbooks. Throughout the course of his Ophthalmology career, Dr. Miller has continued research in macular degeneration, diabetes, and vitreoretinal surgery and has presented this work in international clinical and scientific meetings.
Dr. Miller sees patients in Middletown and Blue Ash. He specializes in all medical and surgical retinal diseases including macular degeneration, diabetic retinopathy, vascular diseases of the retina, uveitis, histoplasmosis, vitreoretinal interface abnormalities such as epiretinal membrane and macular hole, retinal detachment, ocular trauma, and complications of anterior segment surgery.
Dr. Miller is a Board Certified Diplomate of the American Board of Ophthalmology. He is a member of the American Academy of Ophthalmology, the American Medical Association, the Association for Research in Vision and Ophthalmology, and a member of The American Society of Retina Specialists.